Discover the Ethereum Enterprise Alliance's missions and how it promotes the adoption of Ethereum to corporations.
The Ethereum Enterprise Alliance ("EEA") is a non-profit organization founded in 2015 to foster the use of Ethereum in enterprises and other large organizations. This article describes the EEA's mission, the members, the Enterprise Ethereum Stack, and how this organization interacts and contributes to the development of Ethereum.
Description and mission
The Ethereum Enterprise Alliance ("EEA") is a non-profit organization comprised of members from multiple industries. Its objective is to "drive the use of Ethereum blockchain technology as an open-standard to empower all enterprises".
According to its charter, any party can apply to join the alliance, but applications require processing and membership fees.
By establishing a standardized Ethereum stack for companies, the EEA's goal is to help enterprises and organizations create real-world solutions based on customized versions of Ethereum.
With hundreds of thousands of contributors, the Ethereum Enterprise Alliance is headquartered in the US (Massachusetts) and has representative offices worldwide (Beijing, Tokyo, and Paris).
Members of the Ethereum Enterprise Alliance
EEA's members comprise some leading companies in their respective market segments (e.g., banking, trading, software) and a range of startups and other non-profit organizations.
For instance, J.P. Morgan is an active member (Quorum), side by side with companies like Microsoft, the Linux Foundation (Hyperledger), the Blockchain Research Institute, and Consensys.
For the full list of its members, please visit this page.
There are various membership classes available:
Class A - the board of the EEA
Class B - the general membership level, appropriate for all organizations
Class C - legal practitioners and legal firms
Class D - non-profit organizations, including Government and Regulatory Agencies, NGOs, and Academic Institutions.
Regardless of their respective classes, members can participate in (1) special interest groups ("SIGs") and (2) working groups ("EEA Technical Specification Working Group").
Special interest groups are dedicated to solving problems in their respective industry. Members are required to share their requirements and dedicated use cases to the EEA Technical Specification Working Group.
Some of the EEA's special interest groups include Financial Services, Real Estate, and Supply Chain.
Conversely, working groups focus on technological advancement related to "open, standards-based-specifications". These working groups attempt to increase the acceptance and deployment of Ethereum-based solutions for the world. They incorporate elements from the discussions from SIGs.
A look at the Enterprise Ethereum Architecture Stack
To achieve its mission, the Ethereum Enterprise Alliance has established a precise set of requirements to comply with customized versions of Ethereum, including the creation of a single stack for permissioned architecture.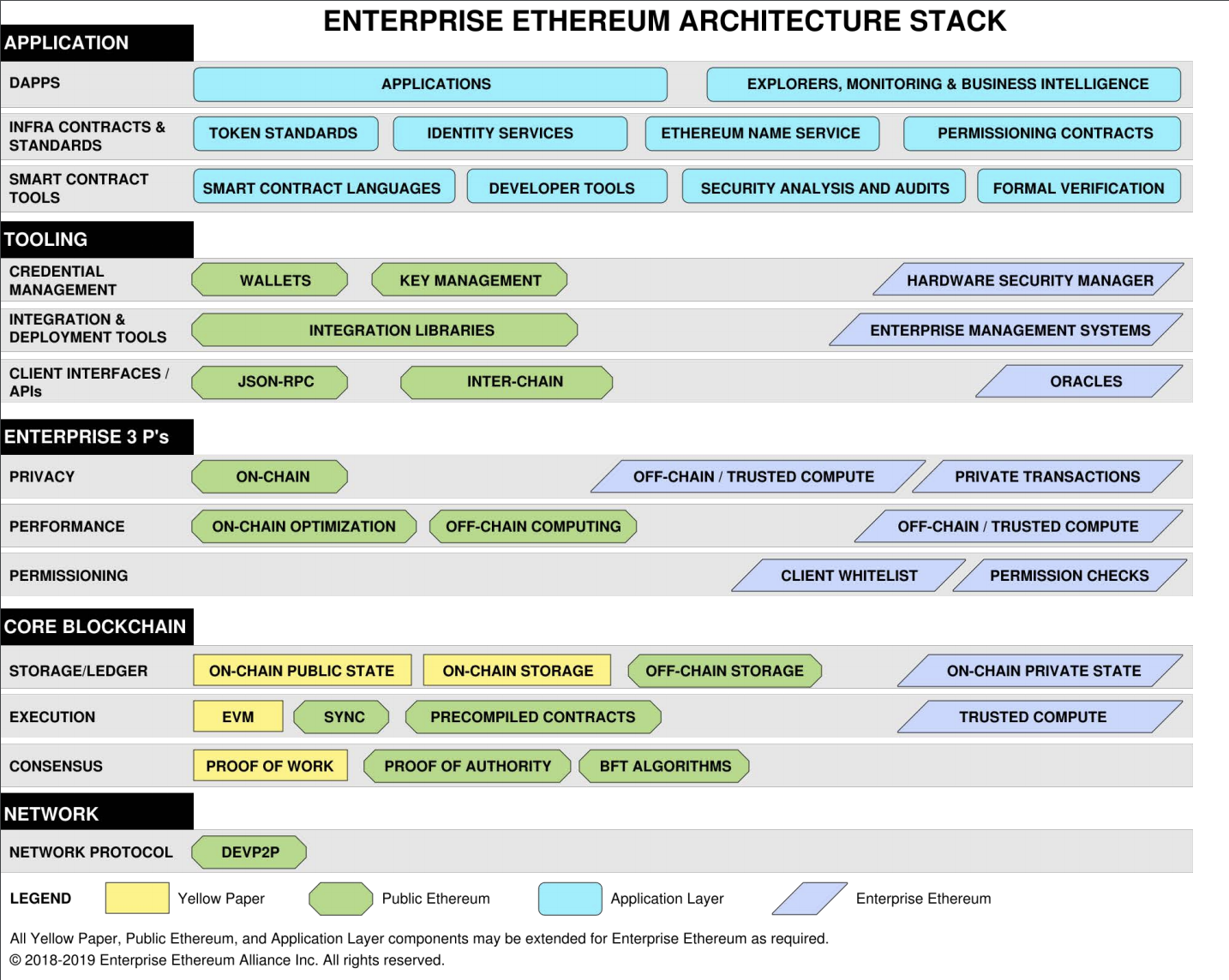 The Enterprise Ethereum Architecture Stack is comprised of five core sections:
Application, including decentralized protocols, network explorer, identity services, smart contract tools, and any other standard forming the application layer's core stack.
Tooling like credential management (e.g., wallets and private key services).
Enterprise 3P's: (1) Privacy by adding off-chain computation and private transactions, (2) Performance by adding off-chain trusted computation service, and (3) Permissioning features such as client whitelisting and permission checks.
Core blockchain, composed of storage, execution, and consensus features. This adds elements like distinct on-chain private states (as discussed in our article about Quorum).
Network, i.e., the network protocol that inherits from the public Ethereum's specification.
What is the difference between Ethereum mainnet and permissioned Ethereum?
While multiple implementations of Ethereum (as a protocol) exist, there will ever be only one public Ethereum mainnet. The main strength of Ethereum as a public permissionless blockchain is the interoperability for all applications. It is often said that a decentralized blockchain works similarly to how protocols built on the Internet can connect.
However, permissioned Ethereum versions offer greater and easier control for corporations to build applications that serve their business needs.
As of now, the main examples of popular permissioned Ethereum solutions include Quorum (JP Morgan/Consensys), Hyperledger Besu (Linux Foundation), and Hyperledger Burrow (Linux Foundation).
Final words
When most people think of Ethereum, they conceive of it as its mainnet (i.e., the public permissionless blockchain). However, Ethereum can also refer to its protocol and the underlying architecture defined in the Yellow Paper written by Dr. Gavin Wood.
With blockchains offering a range of benefits, corporations have been looking for ways to improve their business efficiency without compromising security or privacy. Private and permissioned networks have traditionally been considered one of the main solutions to use blockchains for daily business needs. Thus, the Ethereum Enterprise Alliance has grown to serve as the focal group for these corporations to discuss how to incorporate blockchains into their organizations.
However, the Ethereum Enterprise Association is not the only non-profit organization working to make Ethereum used by corporations. For instance, the Ethereum OASIS Open Project is an OASIS Open Project aimed at developing open, easy-to-use standards, built on high-quality documentations, and offering comprehensive test suites that would facilitate new features and other enhancements to the Ethereum mainnet protocol; Ethereum OASIS have enabled protocols like EY's Baseline or Nightfall to emerge as corporation solutions built on the public Ethereum mainnet.